The Monopoly game at McDonald's has returned.  The top prize for collecting Boardwalk and Park Place is a cool $1,000,000 in cash.  The winner will not collect that money upfront.  Instead, he or she will be mailed a check for $50,000 each year for the next 20 years, without interest.  This steady payment is known as an annuity.  Given my calculation the other day of what it would take to own the entire Monopoly board in real life, I thought it would be useful to explain how this works.
Why would the McDonald's Corporation make the $1,000,000 prize an annuity rather than a lump sum?  It comes down to the firm's opportunity cost.  McDonald's earns 15.12% on assets and 36.35% on equity.  Those are some very high rates of return relative to the average business.
That means that $1,000,000 in net worth at McDonald's is generating an average after-tax return of $363,500 for the owners (the stockholders) each year.  It would be stupid for management to give up that kind of profitability.  By hanging on to the money as long as possible, McDonald's can keep it invested at high rates of return and offset the cost of the Monopoly game grand prize.
How Much Will the Monopoly $1,000,000 Grand Prize Cost McDonald's Corporation?
We can discount the cash flows of the annuity back to the present to find out how much the prize is really going to cost the restaurant.  Our "i" variable would be 36.35%, our "n" variable would be 20, and our "PMT" variable would be $50,000.
The net present value of the McDonald's Monopoly $1,000,000 Grand Prize to the Company: $137,272.74
If McDonald's were to give away $1,000,000 for the Monopoly game today, it would be giving away $1,000,000.  That would be the real cost of the transaction.  By spreading it out in installments over 20 years and keeping most of the money invested in the high returning McDonald's restaurant business, the cost to stockholders is only $137,272.74.
But wait!  There is more.  You have to consider this is a marketing expense to the company.  Let's give McDonald's an average weighted tax rate of 35% in the United States.  That means the restaurant will be able to take a $48,045 tax credit for the expense of the promotion, leaving it with a net bill of roughly $89,228.
The real opportunity cost to McDonald's for the $1 million prize?  $89,228
How Much Is the $1,000,000 Monopoly Grand Prize Worth to the Winner?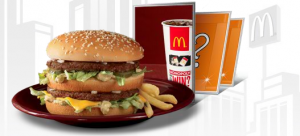 That doesn't mean this is the present value for the man or woman who wins the Monopoly grand prize!  You have to calculate the true intrinsic value to them based upon their personal opportunity cost.  Say you won and you know you can earn 8% on your money.  Obviously, getting a lump sum up front is more valuable to you because you can put the cash to work and earn 8% interest each year.  That means your "i" variable would be 8%, not 36.35%.
The net present value of the McDonald's Monopoly $1,000,000 Grand Prize to you: $490,907.37
But you're going to have to pay taxes.  Let's presume your effective combined taxation level amounts to 30% or so of your income once all municipalities are included – Federal, State, etc.  You are going to pay $147,272 in taxes, leaving you with only $343,635!
You can see how this is a win / win for the customer and for McDonald's.  Management only has to come up with a real $89,228, most people think they are winning a full $1,000,000, which they aren't (they are still getting a very nice $343,635 in after-tax net present value so it is unquestionably awesome to win!).
With logic like this, it isn't difficult to see one of the reasons McDonald's is able to generate such a high return on equity.  The finance staff knows what they are doing, which is obvious when you consider their track record at allocating capital is so good, a mere $100,000 invested in McDonald's 25 years ago could be worth as much as $5,547,089 today depending on whether you took Chipotle shares during the reorganization.  That is one of the reasons I use them as a case study to explain financial concepts so often.  They generate so much wealth it's hard to fathom, and not just for their own stockholders and franchise owners; e.g., the family that has been selling them coffee beans for the past few decades is worth an estimated $114 million.  Personally, I'm almost always up for buying more McDonald's shares and locking them in a bank vault for my future children, grandchildren, or charitable causes.