Happy New Year!
A Look Inside Our Life as We Set Out to Make 2021 Incredible!
As I write this message, it is January 2nd, 2021.  Today marks the second day of the new year, the thirteenth day since the start of winter, and the 13,987th day of my life.  The holiday weekend afforded me something I haven't had in a long time due to the chaos of the pandemic: a moment of respite as much of the world shut down for celebration.  As the year rolled out, I binged watched a series called Bridgerton on Netflix – think a rated-MA version of Jane Austen that has some of the best costume design of any show in years – and then slept until almost 11 p.m. the next day.  It was enough for me to reset.  I am excited and ready to crush the next year.
Right now, I'm in the checklist making phase, both at home and at work.  Let's go over what the near-term looks like for both.
What Life at Kennon-Green & Co. Looks Like in the Coming Months
At work, my most pressing project is getting out a comprehensive year-end private client letter that goes over the details of where we are, what we are seeing, and how we feel about the asset book as it stands.  Kennon-Green & Co. ended 2021 with nearly all of its clients engaged in a structural trade about which it is an understatement to say I am excited.  Only a few times in my career have the economics of a group of common stocks – the price relative to intrinsic value for relatively stable cash flow – been so compelling.  If these prices hold, I both hope and intend for Aaron and I to make a material follow-up contribution to our portfolio of investments alongside clients to increase our personal exposure to the aforementioned stocks.  (They already represent a large portion of our assets invested alongside clients but I want more.  It consumes my thoughts.  We want as many trees as we can prudently plant in this soil to take root before the market shifts on us.  While it is impossible to predict, my best guess is that five to ten years from now we will look back on it as one of the smartest things we did during the decade even if it looks foolish in the short-term and underperforms the market potentially for several years at a time.  It goes without saying but we can't guarantee a good outcome, of course.  No one can.  All we can do is make probability estimations based upon a deep understanding of the economics of individual companies waiting for what we believe to be a material mis-pricing in our and our clients' favor.  And boy do I think we have one, especially in a world where real interest rates have gone negative or near zero.)  In that same letter, I also have to explain some the complexities of certain tax-loss harvesting transactions – in more than a few cases, we have clients who saw their portfolio grow year-over-year yet will be able to claim tax losses to the IRS for the year, reducing their tax liability and keeping more cash in their pocket giving them the best of all worlds (who doesn't want to grow richer while paying lower taxes?) – as well as an arbitrage opportunity we exploited during the year.
There are also two other companies that we are weighting at 2.5% to 5.0% each depending upon whether or not a client has available cash.  For those who don't at the moment, it is going to trigger a more comprehensive follow-up review about when/if to sell things based on an analysis of realized and unrealized gain/loss exposure, other positions, and any client-specific considerations.  That simply takes time.  There is no way to rush it and do it with the level of care and attention that both Aaron and I demand and would want if the situation were reversed.
This will be happening while we review and approve the year-end private client statements generated by our system portal, review and close out our final 2020 accounting records to send to our independent third-party CPA for tax return preparation, and finalize the digitization of the last few boxes of paperwork that remain from our time in Missouri thanks to us now being up and running on a Salesforce-based system called Salentica Elements that integrates with our other technology vendors.
On our end – this won't have much, if any, meaningful effect on clients but does matter for the Kennon-Green family – later in the year, we will be discussing seriously about whether or not migrate the domicile of the limited liability company to a state like Delaware and, perhaps, change the tax structure of its operations, part of which may depend on the result of the Senate run-off elections in Georgia as that may make it more or less advantageous or disadvantageous to do things presently rather than a few years from now.  Only time will tell.  Fortunately, either or both of those potential undertakings will not require much of Aaron or my's time as we have excellent attorneys and accountants advising us who can do nearly all of the heavy lifting once we have made a decision.  There is a good chance we may overhaul the firm's retirement benefit system, as well, to further increase the opportunity of us to invest tax-deferred or tax-free alongside clients given the high tax burden of living in California.
Among our most important tasks is preparing the office to open to clients in a post-pandemic world.  I cannot tell you enough how excited I am to be able to meet people face-to-face again!  The shut-downs have given us the opportunity to get a lot of this done despite, paradoxically, making it more difficult to achieve.  For example, when we designed the office furniture and it was being ordered, we realized that the old built-in bookcases that the law firm which occupied the space before us had left could be optimized further.  Originally, they looked like this …
We decided to have them ripped out and then to have new custom bookcases built in the same quarter-cut walnut veneer that we liked so much for the office furniture that was coming.  In addition, we had the spacing of the shelves modified so that we gained an extra row of shelves in each bookcase, increasing the total number of shelves from 63 to 72, providing a boost of 14.3% in storage capacity.  It was a marked improvement.  Afterwards, it looked like this …
Much better.  Much, much better.  Both of us are so much happier with it.  It was worth the time, effort, and capital outlay.  The only problem?  It's not enough storage space for the office library, which is ever-expanding.  (Last year, for example, I managed to buy up a lot of out of print biographies of magnates like Lipton, the tea giant, and other captains of industry; books that many people don't even realize exist despite being a wealth of information and data.  I had orders coming in from small, independent bookstores around the country for months at a time.)  We started shelving tomes in a quasi-organized manner, figuring we would do a complete inventory of everything we had, put it all in a reference database, then re-sort once we were finished but we started running out of room.  Some of the books need to be culled – for example, I have older books that I read decades ago which don't have a lot of value in terms of present understanding or reason to keep around for historical case studies or whatnot – but not enough to solve the space issue.  At home, we have a lot of bookshelves, too, plus we have three separate storage units.  This is going to be one of those things that gets fixed whenever and however we can, maybe on random weekends after the world is back to normal.  It must come after our other priorities.
It's going to be great when it's all done, though.  One of the things that we had built to go with the bookcases was a waterfall-style conference table at bar height with six leather barstools, also in quarter-cut walnut.  Here is what it looks like …
Once everything is finished, I'll post pictures of the office.  Suffice it say, we are thrilled with how things are turning out and so happy with the vendor we chose to manage the project for us.  One of my favorite things is being able to see the mountains from my desk – it's a U-Shape design so I had three separate surfaces on which to work – while I am reading or talking a client on the phone …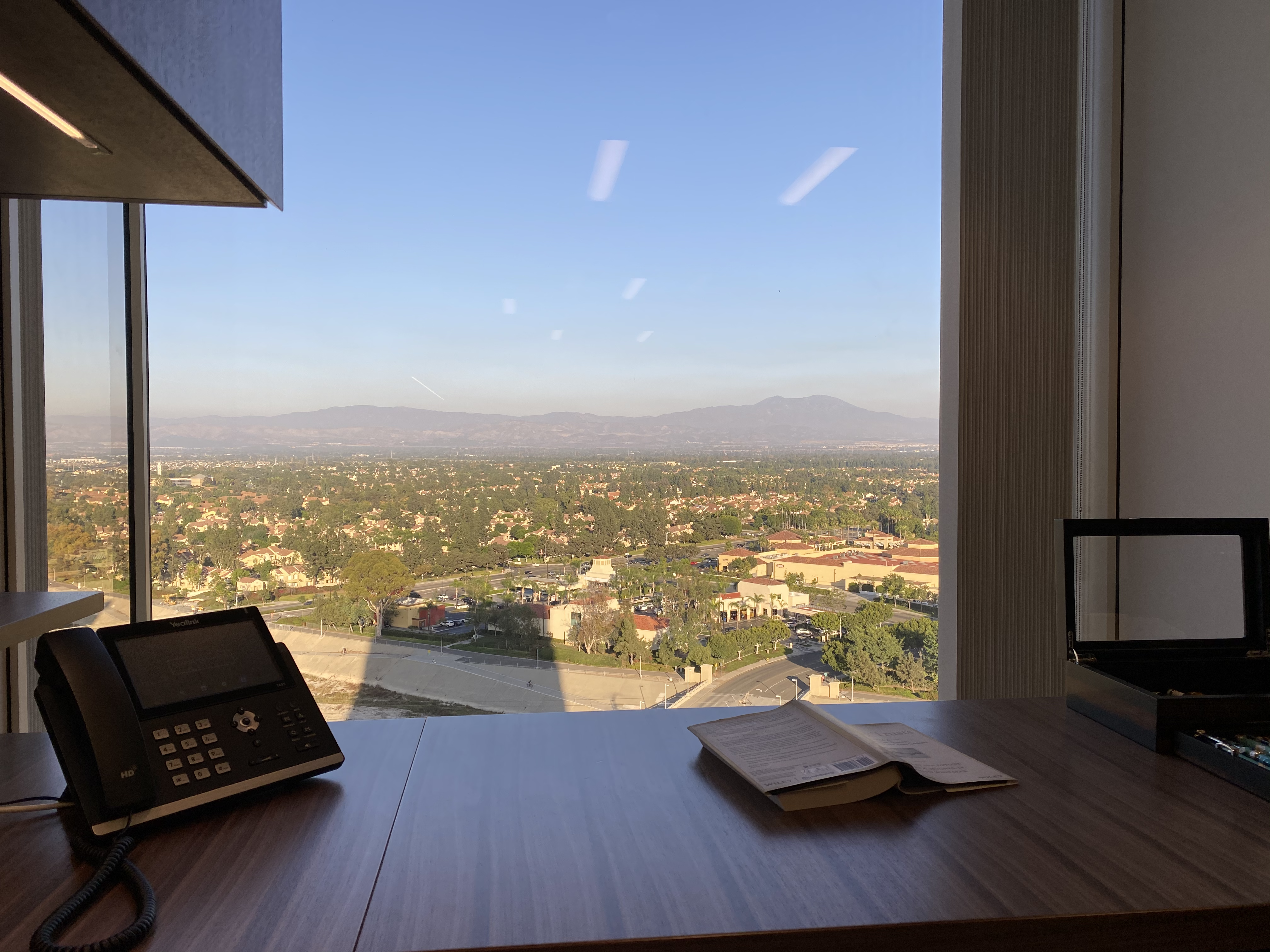 It's especially pretty at sunset …
… and when we are there working late and the moon rises …
Ah!  That reminds me!  One of the craziest things about the pandemic was not a lack of demand but, rather, the inability of various supply chains to accommodate buyers amidst shut-downs due to almost nobody having sufficient inventory on hand.  Generations of corporate managers prioritized economic efficiency over economic resiliency.  The strains of those decisions showed when it mattered.  We saw it from both perspectives, as owners of the enterprises through common stock positions, and as consumers.  Nevertheless, things are still being purchased, shipped, and installed.
In our case, a major hold-up was the firm's refrigerator.  We ordered a JennAir Rise 72″ counter-depth French Door with Obsidian interior (Model JFFCC72EHL) back on August 18th.  It wasn't delivered until December 22nd.  We had experienced so many promised delivery dates and last-minute cancellations that we truly weren't sure if it would show up or not.  Thank goodness it did.
We still need to have the waterline hooked up to it, figure out the coffee situation, and wrap up a few other things for the kitchen area but simply having the actual refrigerator there marks one more item off our checklist.  It's mostly so when clients come visit us, we have water, tea, soda, and other beverages to offer them if they want something to drink.  There is no rush on that because it looks like most folks may not be vaccinated until June or July at the earliest so the doors will remain closed for a bit.
Anyway, enough about work.  This is a holiday weekend and I'm supposed to be focused on other things.  On to home …
What Life in the Kennon-Green Family Looks Like in the Coming Months
The biggest change, as you know, is us becoming parents.  The due date for the first baby is now only 106 days away, or roughly 3 1/2 months, away.  The first and most important task is making sure all of the planning, legal, and logistical work around that is taken care of properly.  Again, this is an area where we have a lot of wonderful, intelligent, hardworking people helping us so it will get done.  Still, I want the peace of mind that comes from knowing it's checked off the task list.
This means we need to wrap up some of the last items to prepare for his arrival.
Aaron is almost ready for me to review his spreadsheet of final purchases to see if there is anything I want to add as he's already been working on the things we need such as strollers and diaper bags.
The new, second car we ordered is supposed to be delivered sometime in February or March now – again, yet another delay caused by the pandemic – but that should still leave us time before the due date to have it ready, licensed, insured, and outfitted with baby stuff.
We have to figure out when / how we are going to be vaccinated.  If we are not able to be vaccinated prior to going to his birth, we have to decide how we are going to travel to the hospital, quarantine ahead of time, then get home with the baby safely.  That is going to be an adventure all its own.
We are having new furniture put in parts of our home to better optimize space.  Our master bedroom will have two large built-in walnut bookcases to augment the book storage in my study along with a new walnut media cabinet.  We are going to put the living room coffee table into storage to create an area on the floor where we can lay down baby blankets and have him play with toys if we want to be out in the main room while the other is cooking dinner or something.  The bookcases in the study, which I mentioned up in the part about the office bookcases, are a work-in-progress, too.  We've been trying to put together our library of great literature and/or fiction that has sold particularly well in recent years (here is one of the bookcases to give you an idea, there is another directly to the left of it, which is mostly filled with things like Agatha Christie's mystery novels, selected history books, etc.) so that as our kids get older, we can help them spark their love of reading.  They have their own bookcases in the nursery with baby and children's books we've been amassing.  I can't wait to start reading those with them and maybe even posting some reviews.  (If any of you have any suggestions for your favorite baby / children's books or book series, please let us know!  We'd appreciate it a great deal!)
We are also working on itemizing and inventorying the cookware we have acquired over the past 10+ years so we know exactly what we have, in which sizes and colors, so we can order any missing pieces that need to be filled when they become available.  For example, it turns out we don't have a 7 quart traditional Dutch Oven.  We have smaller, and larger, sizes, but there are a few situations where a 7 quart is going to be perfect, especially once we have kids, family is visiting, and the pandemic is over so people can have dinner with us.  So we need to add one of those, which we'll probably do to tonight.  It's a big task.  Here are some quick pictures I took while we were working on it this afternoon.
It's comical at this point; like I mentioned, it's a collection amassed over the better part of a decade.  We are having to process it in waves so don't miss anything.  Part of this arises because of our intellectual and emotional preference for spending money on things that provide long runs of utility.  Another part of it is our propensity to try and get a bargain when we can.  A huge portion of that collection was acquired by combining sales with American Express rewards points so we didn't have to pay much, if anything, out of pocket.  Small decisions like that add up – this isn't even all of the Le Creuset let alone the Ruffoni and Mauviel pots and pans, the enormous collection of bread and cake pans, the Korean stone bowls for recipes that require them …
There are just so many wonderful memories in these pictures!  Many of you have seen a small fraction of them.
Like that top image … the very furthest back green oval-shaped Staub with the chicken handle?  That is what I tend to use when cooking that incredible corn chowder recipe as well the one I used in the post on leek and potato soup.  There are many more if you go looking; posts like the one about pot roast.
Or how about that same picture, the the light blue Dutch Oven in the very back left corner?  I bought that years ago, second-hand, because the color was discontinued and I couldn't find it.  I was looking for something called "Coastal Blue" but this turned out to be slightly different.  Aaron and I liked it so much that we kept it.  He especially likes cooking in it.  You saw it on the blog in posts like the one about making blackened chicken with sun dried tomatoes, Romano cheese, cream, and butter sauce over fettuccine noodles; a post that was published over seven years ago during our initial Marcella Hazan kick!
The lighter, sea foam green cookware is part of a large collection we assembled after moving to Newport Beach.  It's a color of Le Creuset called "Sea Salt".  You saw one of those at work in the beef stroganoff recipe post.
Of course, you probably recognize the Noel Christmas edition on the stove from the recent Christmas post when we made Tortellini soup with Italian Sausage.
You haven't seen the latest obsession I've had, which is the Artichaut color.  I had planned on buying them for at least a couple of years but never got around to it.  Then, this Christmas, I really wanted to use them for some Christmas recipes, which made me realize we didn't have any.  With Sur La Table (the color has been exclusive to them thus far) entering Chapter 11 bankruptcy this summer due to the pandemic, and finding itself forced to close roughly half of its stores, Aaron and I began amassing them as quickly as we could in case the retailer found itself unable to continue operations.  Unfortunately, there are some pieces we can't find that may take years to fill in but, for now, this will do.  For example, I would love to get a few of the cast iron roasting pans in this color.  I also want a mid-sized round Dutch Oven and maybe a few more of the smaller accessories.
I mean … look at it.  Doesn't it just fill your heart with joy!?
Doesn't it make you want to bake cinnamon rolls, roast turkeys, fry chickens, and simmer soups?!
Don't you want to fry bacon?
To make sausage and egg scrambles?
Sweet potato casseroles?
And it's just so economical, too.  Earlier this week while I was working on a client project, Aaron used his lunch break to make a test run of a penne pasta with a tomato and Beyond Meat sauce to see how it compared to traditional beef.  It was good.  It made us five or six servings that cost between $2.50 and $3.00 each, keeping us fed for days.  If someone really focused on buying only their favorite color, you could amortize the cookware purchase over decades, dropping it down to a rounding error for the median American household's income.  (This assumes that you don't become obsessed with having different shades for different tablescapes and moments like we are, thus turning your home into E.Dehillerin.)
Last summer and autumn, Aaron went through a phase where he would meal prep these high-protein, lower-calorie enchiladas for us.  I don't think I ever got around to posting about those, did I?  Maybe?  I don't think so.  No.  I can't remember.  Anyway, here are some pictures.  Everything was measured out on a food scale to perfection.  He used the Le Creuset Marseille Blue bakeware (which isn't shown in any of those earlier pictures – like I said, we're having to handle this in waves) to make them for us.  I think of all those wonderful afternoons sitting out on the bistro table overlooking the pool, eating our enchiladas and talking before going back to work.  He'd make a batch then the leftovers would be stored in sealed bowls that we could take out during subsequent days and heat up quickly.
Do yourself a favor and learn to cook if you can't or don't already (I know many of you do so I'm preaching to the choir here).  Please.  It is an absolute Godsend.  You do all this work upfront learning the basics and then after that it's just … joy and play, cost savings and discovering new things.
I want enchiladas now.
There are a few other projects I want to undertake but I'll need more time – maybe this summer or autumn – since there are more pressing matters requiring our attention.  For example, I'd like to find a moment to organize our LP / vinyl collection.  And it's not just our collection, anymore … we've already starting building a set of LPs for the kids so they can listen to things like Disney soundtracks on the record player.
What else … ah!  As I mentioned in another recent post, we are almost done helping Aaron's parents finish their apartment before they come to California, which includes taking deliveries for them.  Their place is progressing beautifully.  The speed with which this was spun-up is awesome.  The whole thing could be described as a mix between Pottery Barn and Ralph Lauren; lots of creams and navy with a Chesterfield-style sofa, reading chair, and leather recliner.  The dining area is modeled after a diner or cafe with a three-seater caramel leather banquette tufted to match the other furniture on one side of these marble bistro tables.  Across the banquette are three diner chairs in walnut while above it is art, also framed in walnut.  The den has a burl desk with a walnut media cabinet for a second television along with an oversized loveseat.  They have a cozy outdoor covered patio.  The handsoap smells like mulled cider.  The kitchen is fully stocked with everything from an ice cream maker and panini press to dishware and flatware.  (Actually, now that I write this and after talking about cookware earlier, I know my father-in-law received a beautiful set of Ruffoni pans when he retired as a gift from his company but I am 100% certain we have not taken delivery of those so I need to figure out if they are supposed to show up via shipment or if they are bringing them when they drive out to California … I'm not sure.  I need to ask Aaron.  I don't want them to forget anything.)
I was telling Aaron that one of my favorite things growing up was going to visit, say, Aunt Donna and she having certain video games on the Commodore 64 that no one else had or going to Grandma Ruby's house at watching Murder She Wrote on television with her or sitting on her porch as she drank a cup of black coffee.  I wonder if we should make sure there are things like that which are only at their place so the kids get super-excited.  It also helps reinforce scarcity, to some degree, which can encourage long-term thinking, patience, and planning.  Even though we can buy anything they could ever want, we aren't going to do so.  We have to teach them the value of saving, delayed gratification, and trade-off choices.  We need to figure out what some of those rituals will be.  For example, I remember getting in my Grandpa's pickup truck and going with him early in the morning to pickup doughnuts for everyone – I would order the chocolate long johns, which were my favorite at the time.  These things matter.
One of the big things was figuring out the light bulb color of the lamps (not the overhead lights).  We settled on a warm yellow for the evenings – 2700 Kelvin to be exact – as it feels a lot more comfortable when you're winding down for the day and going to bed.  I will never understand having the bulk of lighting in a residence being 5000 Kelvin or above.  It strikes me as psychotic.  There is such a growing body of evidence as to what it does to sleep patterns and mood.  Outside of a few special use scenarios, I don't even think municipalities should be allowed to have too much so-called "blue light" in their street lamps because it is too incompatible with human biology and happiness.  I went on a kick a few years back studying how color influences all kinds out of outcomes to the point the military has studied it.  A lot of what people think of as willpower is really just setting the right environment and processes around you to hijack your evolutionary biology.
In any event, I'm really excited for my in-laws.  After long careers of making good decisions, working hard, and living prudently, they deserve to enjoy the rest of their lives doing whatever it is they want to do.
Keep Winning, Improving Yourselves, and Building Your Compounding Machines
For now, our working assumption about 2021 is that:
The bulk of the population has immunity to COVID-19 by July or August.  Perhaps a bit later but, we hope, not too much.
For most people, life is increasingly back to normal by the end of December, in line with our original projections at the start of the pandemic. I fully expect Disneyland in Southern California to be celebrating Christmas with its park gates open.
I need to head off to bed because I want to get as much done as I can at home tomorrow before returning to work on Monday.  I have so much still on my list but I'm excited about it all.  To the extent that I can do my part, and limited to the things I can control, I am determined make 2021 one of the best, most wonderful years of our lives.
You should, too.  You can do it!  I believe in you!  You got this!