Pan-Roasted Chicken with Rosemary, Garlic, and White Wine
As I read through the S&P 500 tear sheets this afternoon, I found myself hungry, having not eaten much since last night.  I asked Aaron if a short, one-hour trip to the grocery store were a possibility, and we both stopped what we were doing, headed to our local market, and picked up quite a bit of the ingredients we need to try several more recipes that are on my task list; the trip secured with the promise that I would cook for us when we returned home as neither of us really had time to be taking a detour in the middle of the day given what is on our agenda this month.  I thought, perhaps, the store wouldn't be busy in the middle of a Thursday afternoon but I was wrong.  It was packed.  Though the upshot is I did find a Merlot cheese somewhat similar to the Bordeaux one I had at Club 33 in Disneyland a few months ago!  Obviously, given the differences, it wasn't an exact match, but it was decently close and had a great flavor.  I snacked on it as I cooked.
I had hoped to make either a roast Easter lamb with white wine, or a pan-roasted lamb with juniper berries, but there weren't any acceptable cuts.  I ended up making the pan-roasted chicken with rosemary, garlic, and white wine, giving me a chance to figure out the exact concentration we prefer in the sauce.  It had one of the best scents I've ever experienced in a chicken dish.  Even better, there are hardly any ingredients – a tiny bit of butter, vegetable oil, garlic, fresh rosemary, salt, newly ground black pepper, and dry white wine.  It was served with a side of lightly buttered red potatoes and, in my case as always, a Perrier (not only do I find it refreshing, I'm doing my part for team Nestlé).
It's also possible I enjoyed the process of cooking this particular dish so much because I decided to break into the cookware collection and pull out one of my favorite sauce pans of all time, which I haven't used in awhile. I ended up working on the MacBook at the counter in the kitchen as I periodically checked on the liquid levels around the chicken, adding a few tablespoons of water if it cooked off too quickly; half the time, I found myself staring at it like you would a work of art or new car. I love it when art and engineering meet. I'm also crazy about this particular combination of flavors, as I've made a no-knead bread using the same ingredients.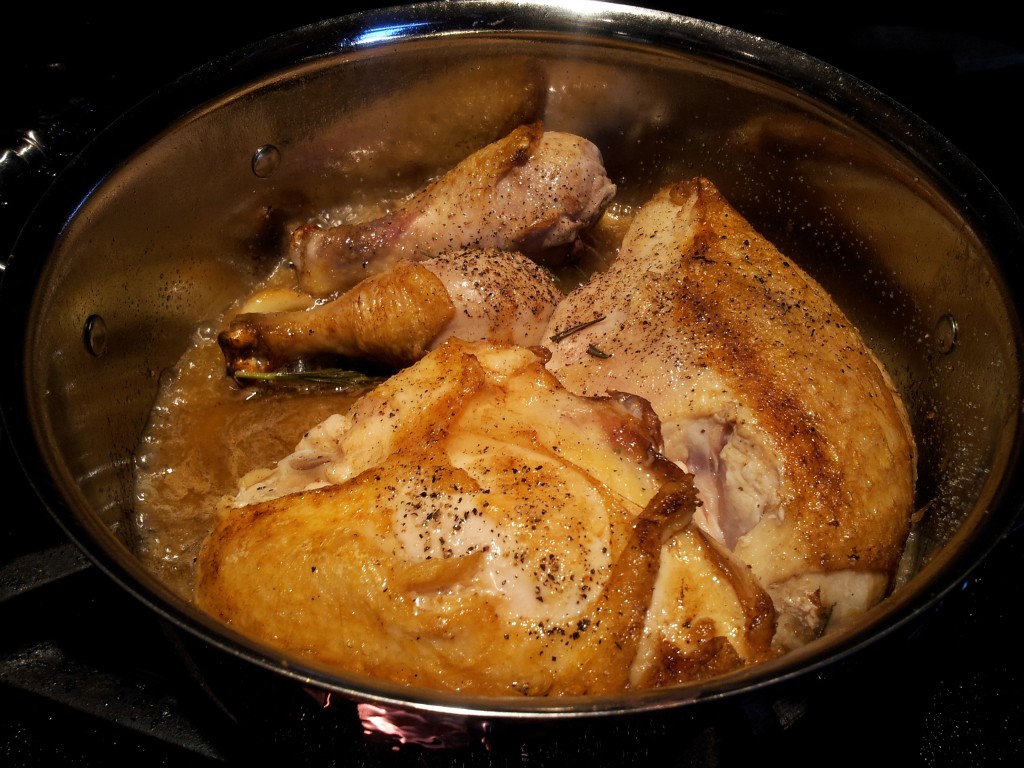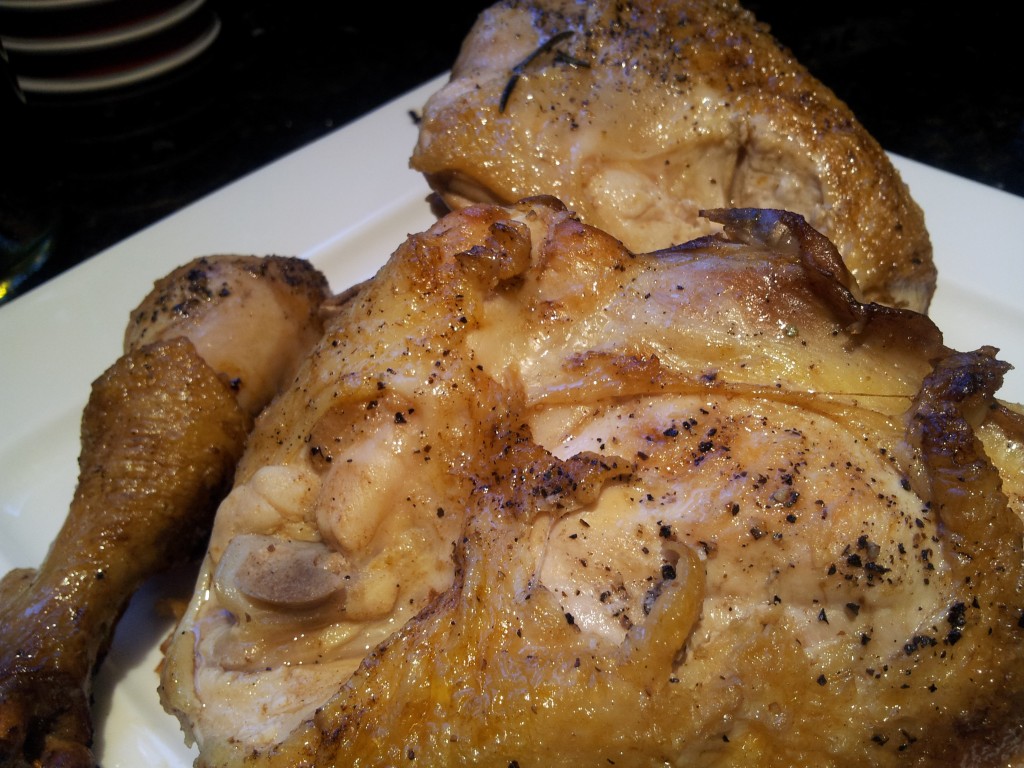 I thought about making macerated oranges or an almond cake for dessert, but have too much to do at the moment. Maybe I'll get to it tomorrow if I have a block of free time.